OUR METAL STAMPING PROCESS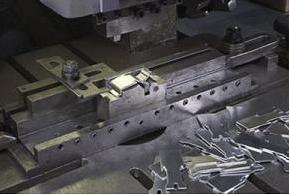 From project inception through the delivery of the finished product, we provide a comprehensive range of services throughout the metal stamping operation.

Short Run Stamping is a synonym for Single Operation Stamping. Unlike other types of metal stampings, our "short-run" process normally uses distinct station dies to accomplish individual tasks such as blanking, piercing, or forming a part to a customer's drawn specifications.

Depending upon the specific geometries and quantities of the customer's part we can utilize any combination of stock tools, die inserts, single station dies, or compound dies (a tool that combines two or more operations into a single hit die i.e. blanking and piercing).

We also have the ability to produce progressive dies in-house, for larger run orders. A progressive die moves coil material through a die and performs all of the necessary operations to create a complete part as it progresses through the tool.

Our processes include:


A blanking die uses a flat piece of raw material (either coil or strip) to cut the desired shape of the metal stamping part in one operation. The finished part is referred to as a blank. A properly maintained blanking die, with the correct amount of clearance between the punch and die, produces a part that holds close dimensional tolerances in relationship to the parts edges. Since the part is "blanked" in one operation, the finish edges of the part are uniform in appearance and due to the even compression of the blanking process; the result is a flat part that may retain a specific level of flatness for additional manufacturing operations.


A piercing operation is used to pierce holes in stampings. Piercing is a shearing process where a punch and die are used to create a hole in a finished "blank". The process and machinery are usually the same type as that used in blanking, except that the piece being punched out is scrap in the piercing process. We use many specialized types of piercing in our metal stamping operations: lancing, perforating, notching, nibbling, shaving, cutoff, and dinking.
A forming die modifies the pierced blank by deforming the object, without removing any material, into the desired geometries of the finished part. Forming is done with the use of a forming die in a punch press, a roll former or press brake. Bending, coining and drawing are some examples of the forming processes we use during metal stamping.
Value-Added Operations
Drilling, tapping, machining, welding, plating & painting are just a few of the thousands of value-added operations that can be performed on an individual part to create a finished good.
Quality Final Inspection
Even though in-process inspections have been done before, during and after each individual operation, the final inspection, done by the professionals in our Quality Department using state-of-the-art equipment, ensures that the metal stamping part is manufactured to the specifications called out on the customer's drawing.
Packing and Shipping
Our shipping department ensures that any special handling requirements are met while counting and carefully packing all orders to arrive on time and in excellent condition to our customers.
Contact us now to put our expertise to work on your next metal stamping project.