NEWS
Service Stampings, Inc., Adds New Timesaver Finishing Machine to Enhance Finishing Capabilities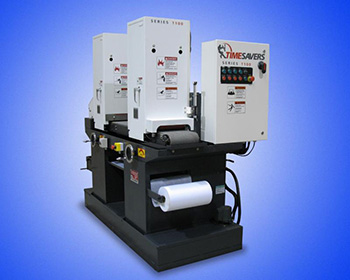 WILLOUGHBY, OH - Service Stampings, Inc., an Ohio-based short-run metal stamping manufacturer and steel fabricator, has added a new Timesaver Finishing Machine to its arsenal of finishing equipment.

This Timesaver Finishing Machine is beneficial in part because it allows for "wet" sanding. When parts are processed on a dry machine there sometimes can be residual dust on the parts. However, parts processed on a wet machine exit completely clean. The wet sanding also allows the maximization of thru-put because the parts do not have sanding dust.

The Timesaver Finishing Machine helps achieve more uniform aesthetic finishes and also will give Service Stampings the ability to achieve more difficult aesthetic finishes. The dual belt function of this new work-center also increases efficiency because it offers the ability to apply multiple finish operations in just one pass.

"We are really excited about how the Timesaver Finishing Machine will increase our productivity, effectiveness, efficiency and really expand our offerings to the market," said Rob Stohlman, VP of Sales. "Our unique relationship with 3M also will be helping us to perfectly achieve a customer's specific finish, which is very exciting!"

Founded in 1957, Service Stampings is an industry leader in precision metal stamping and steel fabrication and provides a wide array of services, ranging from design and engineering assistance to secondary services like multiple-spindle drilling and tapping along with assembly and finishing.
---