HOW TO SPEC SHEET METAL PARTS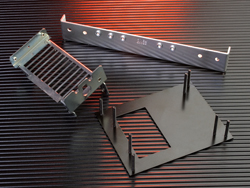 Proper specifications can mean the difference between sheet metal parts produced on time and on budget and a rogue sheet metal project that chews up profits and ruins supplier relationships.
It's critical to remember that your specs, more than any other single factor, determine the price quoted for your sheet metal parts.
With that in mind, here are some tips to consider when you spec your next sheet metal project:
Incorporate only those restrictions that are essential and critical to the part's performance. - For instance, not all dimensions require +/- .001 tolerance, and not all sheet metal parts require cold-rolled 16-gage sheet. Thinking through each specification can help lower your costs and decrease the project's time line.
Specify only those operations that are essential and critical to the part's performance. - As an example, do you simply prefer smooth pieces, or does the part's functionality depend on the removal of all burrs? The answer can save your company money.
Order in maximum quantities to take advantage of the best pricing. - Fixed costs mean that three orders of 2,000 sheet metal parts, which require three separate set-up charges, cost more than one order of 6,000 parts, which requires just one set-up charge.
If the specs could be subject to interpretation, define your specifications.
As you write the specifications for your sheet metal parts, take the time to talk with metal stamping manufacturers. They often can provide valuable cost- and time-saving advice.
At Service Stampings, our design and engineering staff has worked with customers for more than 50 years to ensure that their sheet metals parts are produced on time and on budget. Contact us now to take advantage of our experience and expertise.